Benefits Of IT Staff Augmentation: 5 Key Advantages for Startups
Published March 15, 2023, updated April 21, 2023
•
•
7 min read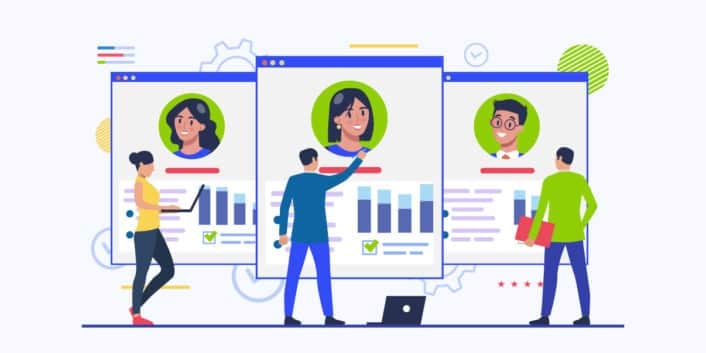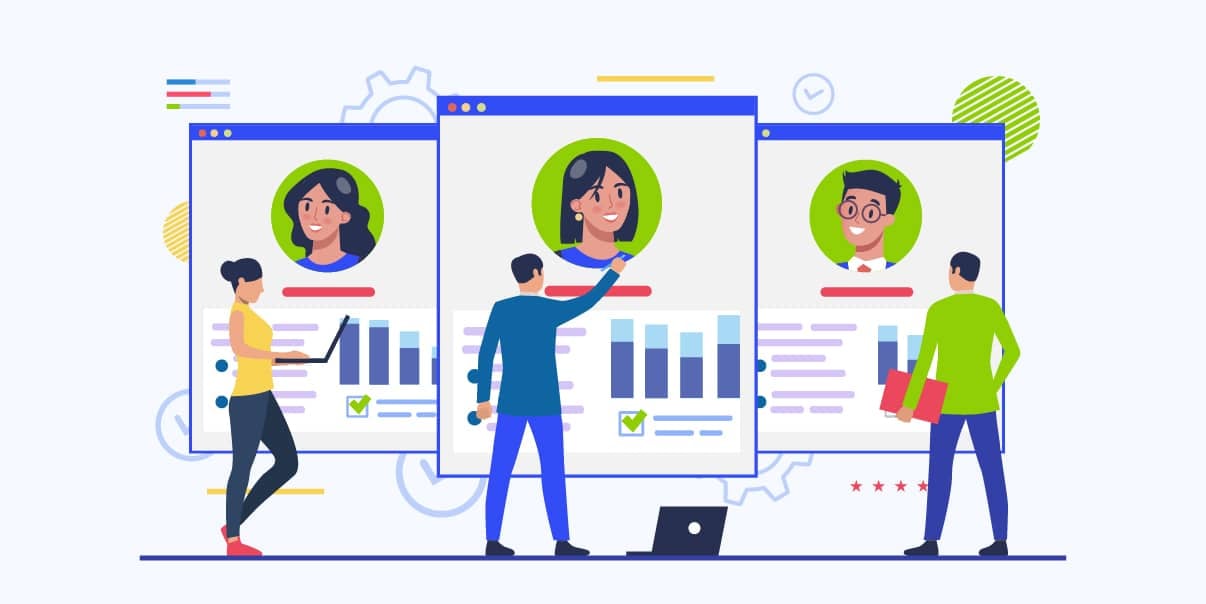 Startups are using IT staff augmentation services to drive innovation and stay competitive. With this strategy, startups can be more efficient. They can also remain agile without spending too much money. With staff augmentation, startups can access global talents without worrying about recruitment.
This article will explore the key benefits of IT staff augmentation for startups. You'll also learn how to find the right partner for your company.
Definition of Staff Augmentation
IT staff augmentation services bring in more IT experts to help companies with specific jobs. They also provide extra help for existing teams in the organization. Most augmentation teams include software developers, project managers, and software engineers.
This method is helpful for businesses that want to save money and finish their specific project faster. It also ensures that all the software products are of good quality.
Aside from that, IT staff augmentation companies help companies access global talents. They ensure that these talents have specialized skills, knowledge, and experience. This staffing method is an integral part of many startups' strategies for success.
How staff augmentation differs from other staffing models?
Staff augmentation services fill specific skill gaps temporarily. It allows companies to acquire the necessary skills quickly without spending too much. This way, they don't have to invest in training and onboarding. Businesses don't have to pay for the overhead costs of hiring long-term employees.
Unlike other staffing models, IT staff augmentation allows businesses to manage talent directly. It also offers access to global talent. This perk expands the selection of specialized tech skills available in the IT industry.
Benefits of IT Staff Augmentation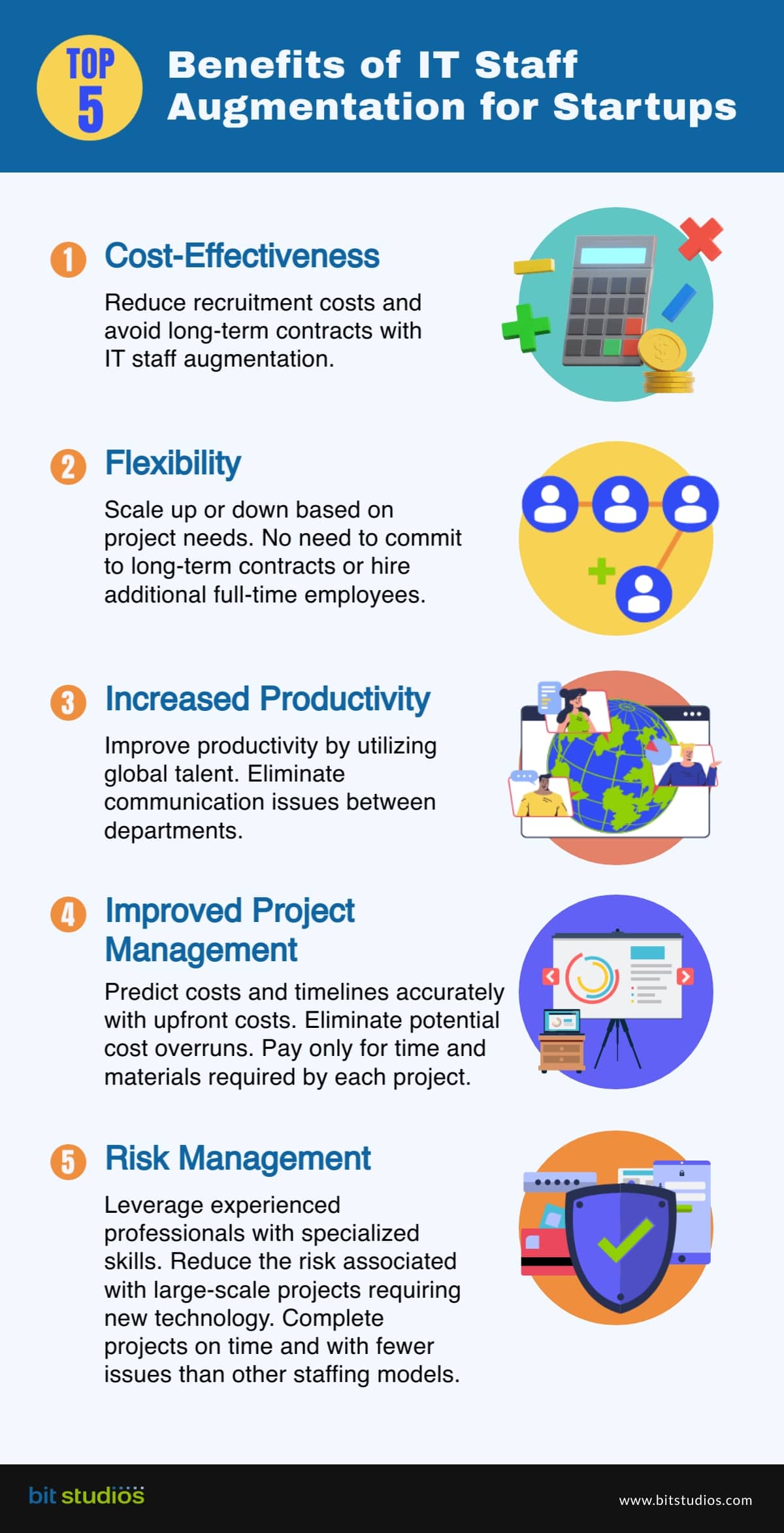 According to InsightSuccess, there was a USD 92.5 billion market in staff augmentation in 2022. Most startup companies use this staffing method due to its many perks. Some of it includes better efficiency and agility in development processes.
Here are other benefits of IT staff augmentation for startups:
1. Cost-Effectiveness
As mentioned earlier, IT staff augmentation is cost-effective. Since organizations only pay for specific skills and time, you don't have to go over your budget. It eliminates the cost of recruiting and onboarding. You can also avoid any potential long-term contracts associated with traditional hiring processes.
2. Flexibility
With IT staff augmentation, startups don't need to commit to a long-term contract. They don't also have to hire additional full-time employees. This method allows businesses to add new skills and scale down depending on the project's needs.
3. Increased Productivity
By utilizing global talent, startups can tap into new approaches to improve productivity. In addition, IT staff augmentation eliminates communication issues between departments.
4. Improved Project Management
With IT staff augmentation, startups can manage projects more accurately. The upfront cost allows businesses to predict the cost and timeline for each project. It also eliminates potential cost overruns. Organizations only have to pay for the time and materials required by their project.
5. Risk Management
IT staff augmentation leverages experienced professionals with specialized skills. So, startups can reduce the risk associated with large-scale projects requiring new technology. It helps complete projects on time and with fewer issues than other staffing models.
Potential Challenges of IT Staff Augmentation
Aside from its benefits, you must also know the potential challenges of staff augmentation. Here are two of them:
Difficulty in Securing the Right Personnel
IT staff augmentation requires organizations to find the right talent with specialized skills. It can be tricky since there is a global shortage of skilled professionals. As such, startups may need to increase their budget. They may also need to extend the project timeline to secure the proper personnel.
But you can find reliable IT staff augmentation companies to help you find talent. For example, BIT Studios has professional recruiters that will provide quality hires.
Issues with Quality Control
Startups may also face difficulty controlling quality when using IT staff augmentation. It is because the person may be in different countries with varying laws and regulations. As such, outsourcing providers must adhere to local laws and international standards.
How to Choose Your IT Staff Augmentation Service Provider
When choosing an IT staff augmentation company, there are essential factors that you must consider. They will help you ensure the quality of services without breaking the bank. Here are some factors to consider:
Cost
When selecting a staff augmentation provider, you must consider the project's total cost. It includes their rate for the specific skills and any potential contractor benefits. You should also note their price for the time they'll spend on your project. Businesses should also look at long-term sustainability and scalability when making their choice.
Quality of Service
Startups should also look at the quality of service a potential project outsourcing provider provides. It includes their ability to deliver projects on time. You must also consider their communication capabilities and any additional services. Look for their past projects and customer reviews to determine the quality of their work.
Communication
Startups must also consider communication when selecting an IT staff augmentation provider. Good communication is essential for successful projects. It ensures that all stakeholders are on the same page and clear about their expectations. Also, it eliminates any miscommunication or potential issues in the future.
Expertise
Aside from other factors, expertise is crucial when selecting a staff augmentation provider. Look for those with expertise in the fields you need. For example, you may need those with experience in software development or web design. They should also have a track record of delivering successful projects on time and within budget.
Project Management
Another critical factor in choosing a provider is their ability to manage projects. Make sure they have expertise in project management and can finish tasks efficiently. It includes setting deadlines, progress tracking, and quality assurance testing.
Scalability
Startups should also consider scalability when selecting an IT staff augmentation provider. Check their ability to scale up and down according to the project's requirements.
Quality Assurance
Quality assurance (QA) is another factor when selecting an IT staff augmentation provider. Make sure the provider has quality assurance processes in place. You can ask what QA methods they usually use and if they have the necessary tools.
Legal Considerations
When selecting a staff augmentation provider, consider the legality of your partner's enterprise. Look for outsourcing companies that understand local and global tech laws. It will help you avoid any issues in the future.
Cultural Fit
Finally, consider the cultural fit when selecting an IT staff augmentation provider. Ensure the provider has similar values to your company. Your additional hires must also be able to collaborate with your in-house team.
Conclusion
IT staff augmentation is a popular staffing solution for startups. It is due to its cost-effectiveness and flexibility. It also offers businesses better access to global talent with specialized skills. However, there are also challenges that you might encounter with this staffing method. So, finding the right service provider for your project is essential. At BIT Studios, we can help you find the right talent for your project. Our trained professionals are committed to delivering projects on time and within budget. Contact us now to learn more about how we can help your IT staff augmentation needs.
Originally published March 15, 2023, updated April 21, 2023
We're BIT Studios!
At BIT Studios we specialize in designing, building, shipping, and scaling beautiful, usable products with blazing-fast efficiency