Website vs. Web Application: Which Is Better For Your Business?
Published March 11, 2023, updated April 8, 2023
•
•
10 min read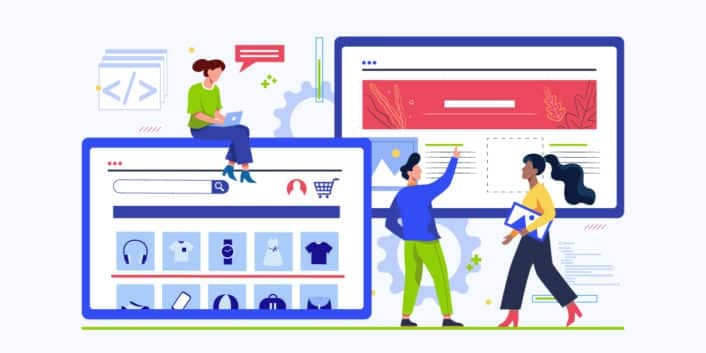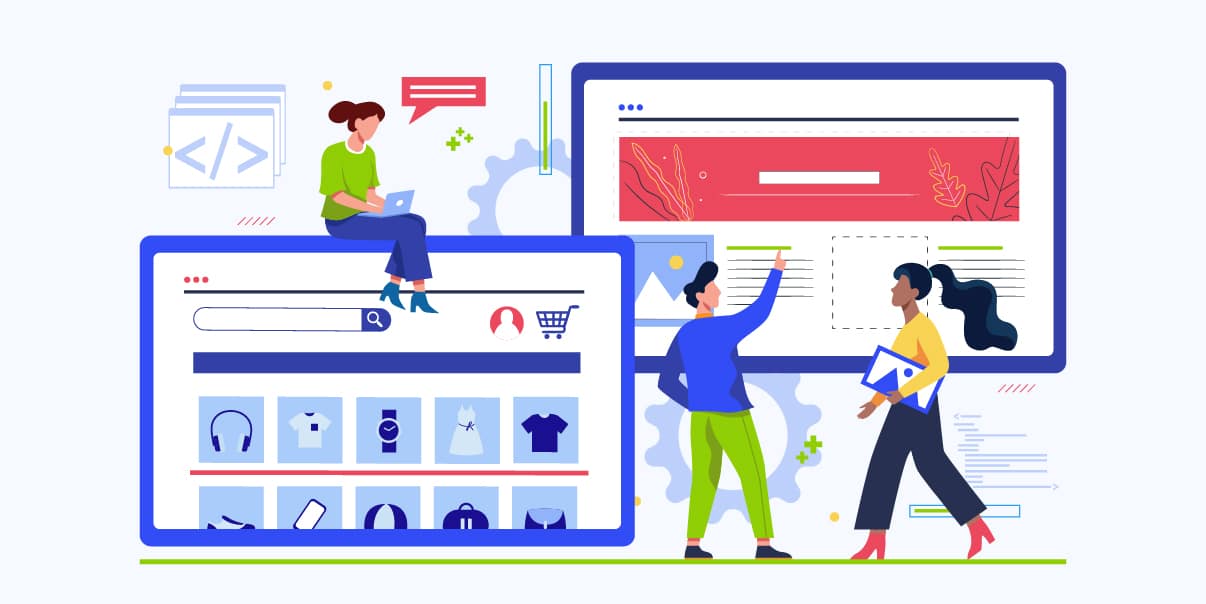 Web development allows organizations to use websites and web applications for their businesses. The two are similar in requiring an internet connection and being accessible from various devices. But they possess distinct characteristics that make them suitable for different purposes. Businesses must understand the critical differences between websites and web applications.
Main Differences Between Websites and Web Apps
So now let us discuss how websites differ from web applications.
Interactivity
Interactivity is one of the critical differences between a website and web application. Developers can create dynamic websites that are informative and accessible. Websites place a strong emphasis on design and user experience. On the other hand, a web app requires more user input and often involves data processing. It has more interactive elements than a website.
Integration
Integration is another critical difference between websites and web applications. Websites require minimal integration, focusing on providing users with information and resources.
On the other hand, a web app normally requires more complex integration capabilities to meet user needs and facilitate tasks. For example, a web app might need to integrate with a payment processing service or third-party logistics provider. Developers need to have expertise in specific programming languages to do this.
Authentication
Authentication is a crucial difference between websites and web applications regarding user access. Static websites are more open and do not require much authentication. They allow unregistered website visitors to access the content by providing credentials.
On the other hand, a web app is more secure. Users must enter their credentials to access the visual and text content. There are other security measures like two-factor authentication.
Characteristics of a Website
Modern websites have multiple web pages and are designed for a bigger audience. The main objectives of a website are:
To inform
To educate
To introduce a product or service
To promote a brand
Informational websites lack interactivity. Users only browse and read the interlinked web pages. Designing a website should be simple and intuitive to navigate, with strong visuals that draw in the user's attention and retain them on the site.
Here are some of the other characteristics of a website:
1. Create Social Proof
A website can be an effective platform for creating social proof, such as customer reviews and testimonials. It's a great way to demonstrate the value of your products or services. They can endorse potential customers, showing them that others have had positive experiences with you. This type of social proof is invaluable. It increases customer confidence in your brand and helps improve conversion.
2. Showcase Products or Services
A website can showcase products or services. It provides customers with information about what your company offers. It establishes your brand's online presence, giving customers access to detailed information. Visitors can access product descriptions, images, videos, and other valuable features. Customers can easily browse through the news on your website at their convenience. This information empowers them to make informed decisions about which product or service is right for them.
3. Improve Branding/Marketing
A website improves branding and marketing efforts. It's an excellent platform for highlighting your company, its mission, and the message you want to convey to potential customers. Companies can present themselves in the most professional light possible. They ensure that their online presence reflects their core values. It also allows you to reach out to potential customers in new ways. You can use digital marketing tools like SEO, PPC advertising, and targeted campaigns.
4. Offer Customer Support
A website is an excellent platform for providing customers with support and assistance. A dedicated customer web page on your website allows you to provide information on contacting customer support. It also includes communication methods (phone, email, etc.) and resources such as FAQs. This way, customers get the help they need quickly and easily.
Why Do You Need a Website?
Websites are typically more accessible and faster to develop than web applications. Because of this, they are a cost-effective option for small businesses or companies on a tight budget.
A website helps expand your business's reach and marketability. Websites can provide customers with an abundance of info about your company using visual and textual content. It helps you establish yourself in global markets while giving insights into what your brand stands for. You can also share timely articles and blogs that educate visitors on all aspects of who you are. Having a website builds credibility within the industry.
Characteristics of a Web Application
A web application, as opposed to a website, is software. It's stored on a web server and is accessible via a web browser. Websites differ from mobile apps because they do not need to be downloaded. They are responsive and adapt to the device's dimensions.
Because it has more functionality, developing a web application requires more effort. It can be more complex than creating a website. It will need a costly hosting solution and a well-defined UI/UX design.
Let us discuss the characteristics of a web app.
Multiple Access Points
Web applications are accessible from multiple devices, including desktops, laptops, tablets, and smartphones. It gives businesses greater flexibility as customers can access them wherever they are. This feature also allows companies to offer 24/7 customer support.
Compatibility With Different Platforms
Web applications are designed to be compatible with multiple platforms. Businesses can create solutions on various operating systems, such as Windows or Mac OSX. Web apps are also compatible with web browsers like Internet Explorer, Chrome, or Safari. Web apps ensure everyone can access the same features and tools.
Update Control
Web applications give businesses greater control over updates and changes. It benefits companies that need to update their services or roll out new features frequently.
With mobile apps, companies can ensure that any changes are consistent across all platforms. They also provide a consistent customer experience regardless of the device they use. In addition, companies can easily roll back changes if they don't have the desired effect or quickly fix any issues that may arise.
No Installation
One of the key advantages of web applications is that they don't require any installation on the user's device. You don't need to build a desktop software that users have to install. Web applications can be accessed using modern browsers. They are much easier to use and more accessible than traditional software programs.
Customers don't have to go through a lengthy installation process before using the service. Web apps make it easier for businesses to roll out updates and new features. Customers don't need to go through any additional steps to access them.
Why Do You Need a Web Application?
A web application is a powerful online tool that can bring significant business value. Web apps allow companies to create custom solutions for their customers. Web apps let businesses extend the reach of their services beyond traditional methods. They also give enterprises greater control over updates and changes. Hence, rolling out new features or fixing any issues is much easier.
Web Application vs. Website: Which Is the Better Choice?
When deciding which option can better suit your needs and goals, consider the following:
Cost
Budget is crucial when deciding between a website and a web application. Websites tend to be less complex and more affordable, as they don't require any sophisticated coding or development. But web apps can be more costly due to the additional effort required in their web application development and maintenance.
Business Choice
The choice between a website and a web application ultimately comes down to the specific needs of your business. Websites are better suited for businesses that need to provide information and resources. At the same time, web applications involve complex data processing or integration capabilities.
It's vital to assess your individual needs and choose the best platform. For example, a web application may be better if you need a venue for collecting payments or providing customer support. On the other hand, if your objective is to create social proof and showcase your products or services, then a website may be more suitable.
Security
The security requirements of websites and web applications can vary significantly. Websites are less secure, as they don't require users to enter credentials. Meanwhile, web application security often requires a robust database. Most web apps require an authentication system to process transactions.
Improved User Interaction
Finally, it's essential to consider the user experience when deciding between a website and a web application. Websites tend to be more static, while web applications can provide greater interactivity. Progressive web apps allow users to perform various tasks within the platform.
For example, a web app allows customers to create an account, manage their preferences, and view their purchase history. They can create a more engaging experience for users. They give users greater control over how they interact with the platform.
Final Thoughts
When choosing which platform is right for your business, it's essential to consider all the factors discussed above. Both websites and web applications offer their unique advantages and disadvantages. Hence, it's crucial to select one that fits your individual needs.
Website vs. Web Application FAQs
Can I Have Both a Website and Web Apps?
Yes, you can have both a website and web applications. Many businesses use both for different purposes. Websites provide information. Web applications, meanwhile, offer more complex data processing or integration capabilities.
Which Is Easier and Faster To Build, a Website or a Web App?
Websites are faster and easier to build than web applications. They don't require sophisticated coding or development. Due to the complexity involved, developing web applications can take more time and effort.
How Do I Decide Which Platform Is Right for My Business?
When deciding between a website and a web application, the best practice is to choose one that fits your individual needs. It would also be best to choose the solution that meets all your business requirements. With the right platform in place, you can ensure that you meet your business goals and that customers are satisfied.
Originally published March 11, 2023, updated April 8, 2023
We're BIT Studios!
At BIT Studios we specialize in designing, building, shipping, and scaling beautiful, usable products with blazing-fast efficiency