Outsource Healthcare Software Development: Benefits, Tips, & Best Practices
9 min read
Published: Apr 12, 2023
Updated: Apr 14, 2023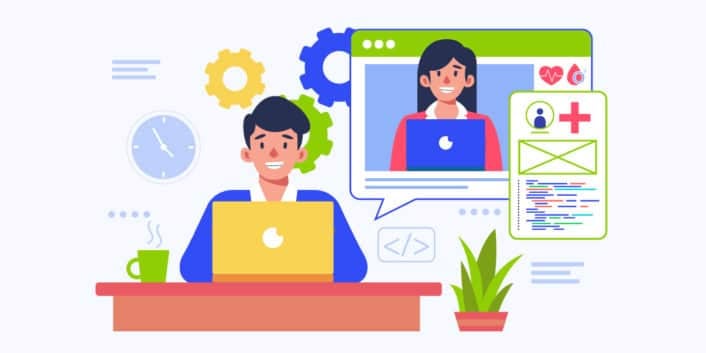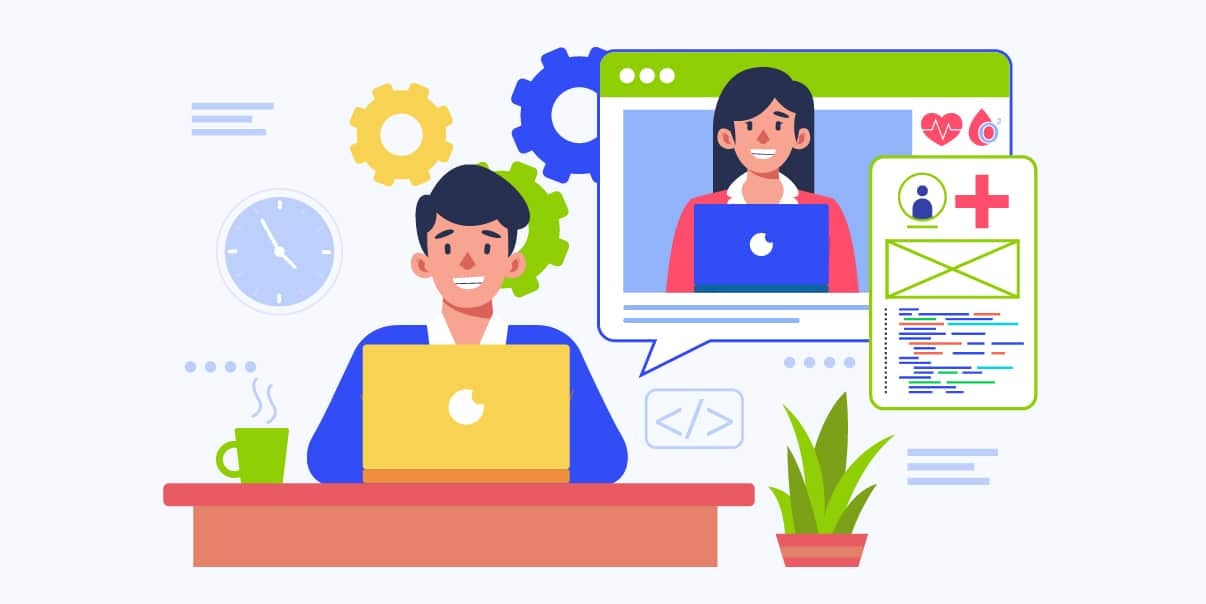 Healthcare software has transformed patient care. It helps make hospitals or clinics more efficient. This way, medical teams can give patients the best care and improve business outcomes.
But creating software for healthcare has many challenges. You need to ensure the highest level of security to comply with strict regulations. Plus, you'd need to build a software development team with specific skills and expertise.
And this is where outsourcing comes in.
Outsourcing healthcare software development is an effective way to get the job done. It helps reduce costs and speed up the delivery of projects.
In this blog post, we'll discuss how you can use outsourcing to create healthcare software. We'll cover its benefits, tips, and best practices.
What Is Healthcare Software Development Outsourcing?
Outsourcing healthcare development is when medical institutions hire another company to built their software. It can be developing custom software programs or apps for various medical needs.
If you decide to outsource healthcare software development, find a reliable partner. It helps ensure your software solutions are accurate, secure, and compliant with regulations.
Types of Healthcare Software
There are various types of healthcare software used in the industry, such as:
EHRs securely store and manage patient information in a digital database. These records track medical history, lab test results, and personalized treatment plans.
Clinical Decision Support (CDS)
It uses AI algorithms to evaluate data and make informed decisions about patient care. CDS provides valuable insights for healthcare providers.
Practice Management Software
This software helps to reduce manual workload and increase efficiency for healthcare organizations. It manages administrative tasks such as billing, scheduling, and processing insurance claims.
Telemedicine or telehealth software allows remote care for patients. Through this, healthcare professionals can enhance patient engagement without physical contact. Also, telemedicine facilitates consultations and treatments.
Benefits of Outsourcing Healthcare Software Development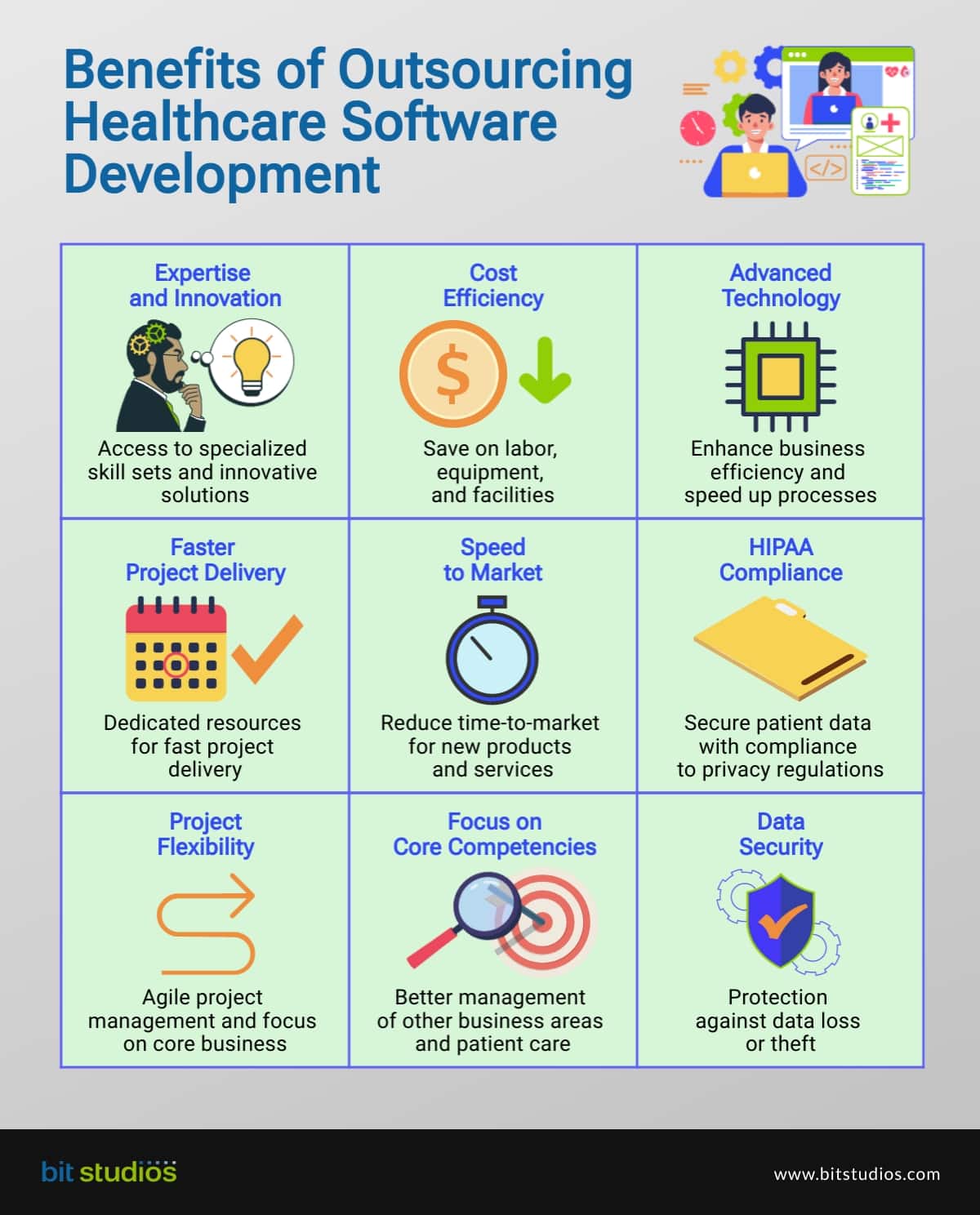 Outsourcing your healthcare software development projects provides the following benefits:
1. Access to Expertise and Specialized Skill Sets
Healthcare software experts provide you with the advanced knowledge needed to create products. Plus, they can offer innovative solutions to help you streamline your workflow and improve patient outcomes.
2. Cost Reduction on Labor, Equipment, and Facilities
Cut costs without sacrificing quality by outsourcing development and technical expertise. It saves you from hiring, renting space, purchasing hardware, or committing to an in-house team. And you can put the money saved towards other areas of your business.
3. Improved Business Efficiency With Cutting-Edge Technology
Rely on a dependable third-party vendor to give you the most advanced medical software solutions. It helps you enhance efficiency in healthcare delivery and speed up processes.
4. Dedicated Resources for Fast Project Completion
Outsource tasks to dedicated resources for faster development and on-time delivery of projects. Plus, you can get help quickly with round-the-clock customer service from many vendors.
5. Reduced Time-to-Market for New Products and Services
Cut time-to-market by working with an outsourcing firm specializing in healthcare software development. They have more experience and can work faster than most internal teams. So, you can get new products and services to market quickly.
6. Compliance With HIPAA Privacy Regulations
An outsourcing partner secures patient data. You get peace of mind because all data collected comply with HIPAA laws. Thus, you won't have to worry about data loss, theft, or a potential breach or hack attempt against the software.
7. Increased Flexibility in Project Management
Outsourcing brings more project management flexibility. It lets you assign tasks to a partner so you can focus on core business. Also, agile project management methods provide quick iteration cycles. No need to worry about getting overwhelmed by too many tasks as the outsourcing partner handles everything.
8. Ability to Focus on Core Competencies
Outsourcing helps you concentrate on your core competencies. You can manage other areas of business and deliver better patient care.
9. Greater Security Against Data Loss or Theft
A reliable partner ensures your data is secure with the latest security measures. It protects patient information from theft and loss. So, you will never have any problem with security risks threatening your operations.
Common Challenges in Hiring Healthcare Software Development Services
You should know some challenges in outsourcing your healthcare software development projects. And here are they:
Language, Culture, and Geographic Barriers
Different languages and cultures can cause communication barriers. It may result in miscommunication or misinterpretation of requirements. Also, geographic barriers like time differences pose a challenge for remote collaboration.
Loss of Control Over Project Timeline and Deliverables
Outsourcing may reduce your control over the project's timeline, budget, and deliverables. It ensures your partner meets all requirements per the original plan.
Limited Oversight and Quality Assurance Measures
It is challenging to track an outsourcing partner since you are in a different location. Also, a lack of experience and expertise may lead to problems with quality assurance measures.
Risk of Intellectual Property Theft or Misuse
There is a risk of intellectual property theft or misuse when outsourcing software development. Ensure your partner has robust security protocols and can protect your data.
Cost Over-Runs Due to Discrepancies in Requirements
Unexpected costs may arise due to discrepancies between the requirements and actual deliverables. So, discuss all aspects of the project before signing a contract with an outsourced partner.
Difficulty in Building Customer Trust and Loyalty
Working with an outsourcing partner may take much work to build customer trust and loyalty. A reliable partner who can bring quality services to your customers is crucial.
Best Practices for Hiring Healthcare Software Development Projects
Finding a reliable outsourcing partner can be challenging. But the following best practices can make it easier:
Develop a Comprehensive Contract With SLA Terms
Create a contract that sets out what you want and need. Ensure it includes Service Level Agreements (SLAs) explaining when and how you should do things. It will help protect you if there are any issues with the project.
Perform Regular Communication with Vendor Team to Avoid Scope Creep
It is essential to have frequent communication with the vendor team. It allows you to track progress and ensure any changes or additions don't result in scope creep. Avoid miscommunication by communicating regularly with the entire vendor team.
Track Progress as Necessary to Ensure Timeliness and Quality
Monitor the project often to ensure everything works well. Also, automated tools help you track code coverage and bug count. You can be sure that the team can finish the project on time.
Select an Appropriate Vendor that Understands HIPAA Compliance
Find a vendor that knows all about keeping patient information safe. It helps protect your business from unauthorized access or other security threats.
Build Quality Assurance Processes Into Project Workflows
Include quality assurance processes into project workflows. Doing so keeps track of all requirements and monitors vendor performance.
Utilize Automated Tools to Track Delivery and Performance Metrics
Automated tools help you track delivery times, budgeting, and other performance metrics. These let you identify issues with the development process and make necessary changes.
Conduct User Acceptance Testing To Ensure Optimal Product Functionality
Perform user acceptance testing to ensure the product works as expected. It provides optimal software functionality for your patients before deploying it into production.
How To Choose the Right Software Development Outsourcing Partner
Choosing the right partner is essential for successful outsourcing. Here are some tips for finding a dependable partner:
1. Research Different Vendors
Before selecting a vendor, research their portfolio and references. Also, check their experience in the industry and look at past completed projects. Doing this helps you find an experienced, knowledgeable partner who understands your needs.
2. Check Their Security Standards
Ensure the vendor follows HIPAA compliance requirements and can protect patient data. It helps keep information secure and prevents unauthorized access to sensitive patient records.
3. Evaluate Their Pricing Model
Choose a partner whose pricing model fits your budget range. Also, ensure it offers flexible payment terms and can adjust to your changing needs.
4. Analyze Their Communication and Project Management Methods
You should be able to communicate with the vendor team easily. Make sure they are available for regular feedback sessions, even if you are in different time zones. See to it they have an organized project management system.
Critical Trends in Healthcare Software Development Services
The healthcare industry is constantly evolving, and so are software solutions. Here are some trends in outsourcing healthcare software projects:
Artificial Intelligence (AI) and Machine Learning (ML). AI and ML algorithms help automate tasks and provide insights for better decisions. You can use these to predict diseases, detect abnormalities, or analyze patient data.
Cloud-Based Solutions. Cloud computing is becoming popular in the healthcare industry. Cloud-based solutions offer a secure and reliable platform for storing medical data. They provide access to apps from anywhere with minimum latency.
Digital Health Platforms. These platforms connect patients, physicians, and other healthcare companies. They allow easy access to patient information and help manage appointments and prescriptions.
Wearable and Mobile Health Technologies. The use of wearables and mobile health technologies is widespread these days. It allows for continuous monitoring of vitals, like heart rate, blood pressure, and oxygen level.
Conclusion
Software development outsourcing provides access to a team of highly-skilled experts. It ensures healthcare solutions meet your specific needs quickly and efficiently. You can stay ahead of the curve while bringing the best possible care to your patients. Contact BIT Studios today for all your outsourcing software needs!
Originally published April 12, 2023, updated April 14, 2023
We're BIT Studios!
At BIT Studios we specialize in designing, building, shipping, and scaling beautiful, usable products with blazing-fast efficiency