Fulton Grace Realty Wins Web Excellence Award With BIT Studios' Help
Published February 17, 2023, updated March 24, 2023
•
•
6 min read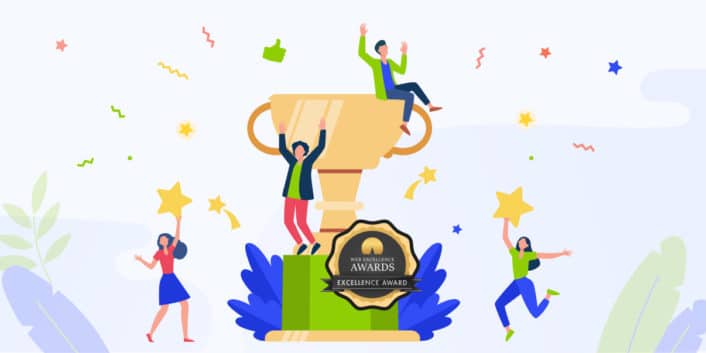 Fulton Grace Realty (FGR), one of Chicago's top-tier real estate firms, has earned the prestigious Web Excellence Award. And it would not have been possible without BIT Studios' services and guidance.
BIT Studios provided an award-winning website with innovative features like a property search tool, an intuitive navigation bar, and detailed property listings with stunning visuals. These improvements allowed FGR to reach a larger audience. These efforts resulted in more website visitors and qualified leads.
The Web Excellence Awards recognizes excellence in web design, content quality, usability, customer service, and overall user experience. The award is a testament to the quality of FGR's services and BIT Studios' cutting-edge web solutions.
The Web Excellence Award: A Prestigious Honor for Stellar Digital Performances
The Web Excellence Awards has become the benchmark in web excellence. Established in 2011 and now sponsored by the Web Marketing Association, it celebrates websites that excel in design, functionality, and creativity. This annual award recognizes the best of the best that web design has to offer. Winners get a plaque and recognition for their achievements on the web.
Setting the Bar High: Criteria for Selection
A panel of experts from the web community judges the Web Excellence Award. Websites must meet the following criteria to get the award:
Digital Strategy
The website must demonstrate that the company understands its goals and uses digital strategies to accomplish them.
Usability & Accessibility
The website must be easy to use and accessible to all users.
Content Quality
The website's content should be relevant, up-to-date, and helpful to users.
Overall User Experience
The website should provide great visuals, navigation, and entertainment value.
Fulton Grace Realty: An Award-Winning Real Estate Experience
Fulton Grace Realty is no stranger to the Web Excellence Awards, having earned a nomination in 2021. FGR is undoubtedly one of the best real estate firms in the Chicago area.
Websites are the primary touch point for real estate businesses, agents, and consumers. So it's vital to have an intuitive platform for proper communication. These features are what made the agency's website stand out from the rest:
A Modern Website With a Great UX
BIT Studios ensured that FGR's website provides an excellent and memorable user experience. The website's intuitive and attractive interface allows users to find what they need quickly.
Comprehensive Listings
The company's website features an extensive listing of properties for sale and rent. Each listing includes the price, square footage, and other important information that help potential buyers or tenants make an informed decision.
Dedicated Customer Service
The company's agents are available 24/7, offering assistance and advice. Their personalized approach to customer support ensures that customers make the right choice for their next real estate investment.
3D Home Tour Feature
To raise the bar higher, BIT Studios made it possible to add a virtual tour of the properties using 3D technology. Users can now take a full home tour from their computer or mobile device, helping them explore properties in the comfort of their homes.
Expert Knowledge of Market Trends and Local Regulations
FGR agents are also well-versed in local real estate regulations, giving customers an edge when dealing with complicated transactions. They keep abreast of the latest market trends and technological developments to provide clients with the best advice possible.
Harnessing the Power of a Dedicated Web Development Team
BIT Studios not only built a fast, responsive, and secure website for Fulton Grace Realty. Our company has provided ongoing development and support for the firm for a few years now. We have a dedicated team of developers, testers, designers, and project managers to ensure the website runs smoothly.
We provide FGR with valuable tools and analytics to keep its digital presence strong. We also assist the real estate firm in content strategy and search engine optimization (SEO). Not surprisingly, FGR's organic web traffic saw an impressive 33 percent growth one year after launch.
Maximizing Success With End-to-end Project Management
FGR turns to BIT Studios for comprehensive consulting and end-to-end project management. Our skilled team gives consultations regarding web design and development, best practices, and industry standards to ensure success. We manage web development projects from beginning to end to ensure FGR had the best website.
Enhancing Performance and Reliability with Continuous Website Maintenance & Support
BIT Studios also delivers ongoing website development and support for Fulton Grace Realty. We ensure the website is always up-to-date, secure, and working correctly. The service includes regular website testing, maintenance, and updates to enhance usability and functionality.
Fulton Grace Realty & BIT Studios: A Winning Combination
It's undeniable that Fulton Grace Realty's website is a success due to the hard work of both teams. The award is a testament to their creativity, dedication, and expertise in web development and real estate services.
At BIT Studios, we are proud that our work contributed to this prestigious award. Anything is possible through collaboration between experienced professionals and creative minds.
The FGR website's success illustrates the benefits of partnering with a web and software development provider like BIT Studios. Our expertise and dedication to quality helped FGR achieve this award, setting the bar higher for real estate companies.
Congratulations to Fulton Grace Realty for this amazing accomplishment! We look forward to creating more award-winning projects together in the future.
Consult with BIT Studios Today!
If you need help with web design, development, or digital marketing, contact BIT Studios. Partner with us to start your journey toward web excellence and make your mark on the digital world!
Originally published February 17, 2023, updated March 24, 2023
We're BIT Studios!
At BIT Studios we specialize in designing, building, shipping, and scaling beautiful, usable products with blazing-fast efficiency